What Are the Different Types of Golf Lessons Available?
Laguna Golf Phuket offers a range of golf classes, so you can pick one that suits your skill level and goals. There is a lesson for everyone, whether you are a beginner or a seasoned golfer trying to improve your swing. Some of the different types of golf lessons available include:
Individual Lessons: These lessons are one-on-one with a PGA professional who will tailor the lesson to your specific needs. You can work on your swing, short game, or putting.
Birdie Package: These 5×50 mins lessons are a great way to learn from other golfers and get feedback from a PGA professional. You will work on the same drills as the other golfers in the group, but you will also have the opportunity to ask questions and get personalized tips.  During this package students also enjoy 1-month unlimited usage of the driving range and discounts on green fees.
See the full pricing and details.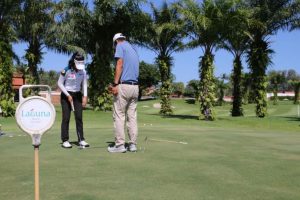 What Are the Benefits of Taking Golf Lessons?
There are many benefits to taking golf lessons. Some of the benefits include:
Improve your swing: A PGA professional can help you identify and correct any flaws in your swing. This will help you hit the ball more consistently and with more power.
Learn new techniques: A PGA professional can teach you new techniques, such as how to hit a fade or draw. This will help you add variety to your game and make you a more complete golfer.
Improve your short game: The short game is often the difference between a good score and a bad score. A PGA professional can help you improve your chipping, pitching, and putting.
Get feedback: A PGA professional can give you feedback on your swing and game. This feedback can help you identify areas where you need to improve.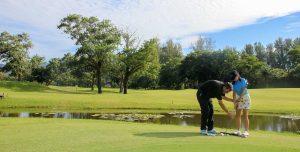 How to Book a Golf Lesson at Laguna Golf Phuket
To book a golf lesson at Laguna Golf Phuket, you can call the pro shop or book online. Visit the link below to book your next round!
If you are looking to improve your golf game, then you should consider taking lessons at Laguna Golf Phuket. With a variety of lessons available and PGA professionals who are experts in their field, you are sure to improve your game!
Follow us on Facebook to receive notifications about our new specials & news!